Have you looked in your pet's mouth lately?  Do your pets kisses smell fresh? Did you know that without proper oral care eighty percent of all dogs and cats by the age of three will have the early signs of oral disease? Oral disease not only causes foul breath and pain for your pet, but a number of other health problems that can include tooth loss, red and bleeding gums, mouth infections, and even lead to heart and kidney problems.
Let us help you get your pet on the road to great oral care in 2013!  Professional dental care with a Veterinarian and a regular at-home routine will help your pet enjoy a longer, healthier life. Plus it keeps your pet's breath fresh for more "enjoyable" kisses. Starting January 2013 and all the way through February we are pleased to offer the following: complimentary dental exams, discounted dental cleanings, and 15% off dental products at both of our offices.
So how do you know if your dog or cat has a dental problem? Some signs are bad breath, brown or yellow teeth, excessive drooling, bleeding from the mouth, or a change in eating and drinking habits. A dental exam is the best way to determine your pet's need for a dental cleaning if you are not sure.  Call us today at 291-3932 or 228-0645 to get more details. You can also click here for great pet dental health information from the AVMA.
Cats love their meat. In fact, these furry carnivores must eat meat to maintain their long-term health. Cats require
high amounts of amino acids, "building blocks" that prevent disease. Vegetarian diets, therefore, are out of the question for cats.
Kittens (cats less than a year old) need food specially designed for their young systems- with an increased level of the necessary proteins for growing muscles and bones.
Many cats enjoy raiding a dog's food bowl. However, cats are not small dogs and they have unique dietary needs that dog food products will not provide them. When choosing a food, cat owners should look for one that contains proteins, fats, minerals, and vitamins. Extra vitamin and mineral supplements are not only unnecessary but potentially harmful. Supplements can unbalance a complete and balanced cat food.
Monitor your cat's water in-take. If your cat doesn't drink enough water, you should consider feeding your feline friend a moist or canned food diet. The canned food will cause your cat to take in larger amounts of water and they typically contain a higher percentage of protein versus dry food, which is more like their natural diets. Feeding your cat moist or canned food can prevent bladder issues later in life.
Cats are naturally efficient eaters. They typically eat to satisfy their need for energy then stop eating when that energy demand is met. Cats tend to eat small but frequent meals. While most cats will naturally regulate their eating habits, some do over indulge. Since obesity is the most common feline nutritional problem, if your cat needs to lose five or more pounds, visit the veterinarian before you begin a weight loss program.
Please click here to continue reading the full article at HeathyPet.com!
Aspirin is a drug that has many benefits for both pets and people; unfortunately, it can also be dangerous. Cats are especially at risk to aspirin toxicity because they lack an enzyme that is necessary for metabolizing a byproduct of aspirin, once ingested. Cat owners should never give their cats aspirin unless advised to do so by a veterinarian.
Signs
Cats with aspirin toxicity get sick fast. One of the first signs is a lack of appetite; you may also see vomiting, diarrhea, lethargy, and fever. There may be red blood in the vomit, or flecks of digested blood that resemble coffee grounds. If you see dark, tarry feces, this is called "melena" and represents digested blood from the small intestine or stomach. Sometimes, the central nervous system is also affected and your cat may have trouble walking, seeming weak or even "drunk."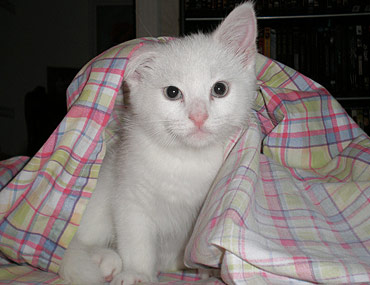 Diagnosis/Treatment
If you suspect your cat has ingested aspirin, you should call your veterinarian immediately. They may recommend tests to determine how severe the toxicity is.
These tests may include:
Chemistry tests to evaluate kidney, liver and pancreatic function as well as sugar levels
A complete blood count to identify if your cat is anemic and to check her clotting function
Electrolyte tests to ensure your cat isn't dehydrated or suffering from an electrolyte imbalance
A urinalysis to rule out urinary tract abnormalities and evaluate the kidney's ability to concentrate urine
If it is determined that your pet has aspirin toxicity, your veterinarian will begin treatment immediately to reduce the impact of the toxicity and to provide supportive care. They may recommend hospitalization and monitoring blood tests to ensure your cat becomes stable.  Please click here to continue reading the full article at The Pet Health Network!
From ASPCA.org
Cats Who Play Rough
All kittens and young cats need to play. Play is normal behavior that provides young animals with opportunities to develop their physical coordination and problem-solving skills. It also gives them a chance to hone their social skills with members of their own species. It's very common for kittens and young cats to engage in rough, active play because all feline play consists of mock aggression. Cats stalk, chase, pounce, swat, kick, scratch and bite each other—all in good fun. However, people often misinterpret this kind of behavior as aggression when it's directed toward them.
Cats display two different types of play behavior: solitary play and social play. They direct solitary play toward objects, like toys, skeins of yarn, paper bags, boxes and rolled-up paper. Social play is directed toward fellow cats, people or other animals. Unfortunately, problems can sometimes arise when feline play is directed toward people. Despite the playful intentions of a cat, he can cause injury to his human playmates. Cat scratches and bites are painful and can easily become infected.
Other Behavior Problems to Rule Out
Aggression
Cats occasionally display aggression toward people. True aggression is most likely to occur in cats who are easily frightened or when they react to the sight, sound or scent of another cat outdoors. If you live with a cat who's under one year of age and you're his only playmate, it's likely that he's playing roughly with you rather than actually behaving aggressively. However, it's sometimes difficult to determine the difference between feline play and real aggression. It might help to observe your cat's body language. Two behaviors that cats frequently display when playing are the "play face," where a cat holds his mouth half open, and the sideways pounce or hop, which a cat often does with his back arched. Cats also tend to play quietly. During aggressive encounters, however, they often growl, hiss and spit.
How to Reduce Your Cat's Rough Play Behavior
Provide a variety of toys for your cat so you can determine his preferences. In general, cats seem to enjoy batting at small toys, like balls and fake mice. They also like to stalk, chase and pounce on things that move like prey, such as toys with feathers attached to flexible rods that you can dangle and move about. Try getting your cat a Kitty Teaser™ or some other kind of toy that dangles. Please see our article, Cat Toys, to learn more about playing with your cat and choosing the best toys for him. 
Frequently give your cat new objects to investigate, such as paper bags or cardboard boxes.
Twice a day, spend at least ten minutes playing with your cat. During playtime, don't encourage him to bat at your hands or feet. Instead, direct the play away from you by using a long dangly toy or throwing your cat's favorite toys. Schedule play sessions to coincide with times when your cat seems most active and playful.
If your cat likes to grab your feet as you go up and down the stairs or hide under things and ambush your ankles or legs as you walk by, carry toys with you and toss them ahead of you to redirect his attention. Try to get him to focus on chasing the toys instead of attacking you. Please click here to continue to the full article at ASPCA.org.
If your houseplants are looking a little ragged or your cat shows symptoms of illness, interaction between them could be the cause. Houseplants may be good for the health of a home but can be dangerous for our feline friends. It is possible, however, to create a level of détente between them.
Although cats aren't herbivores (their teeth aren't designed for grinding plant matter), they do like plants as both toys and snacks. "I haven't seen any consensus or definitive answer on why," said Pam Johnson-Bennett, CCBC, owner of Cat Behavior Associates in Nashville, Tenn., who is a former veterinary technician and author of the recently released Think Like a Cat. "Chewing greenery may help with digestion, or something may be lacking in their diet. Boredom can do it; plants become something dangling and irresistible to bat and play with, and the next step is to chew on them."
The problem is that "plants are either deadly or, at the very least, toxic to cats," Johnson-Bennett said. "If they don't kill your cat, at least it will experience intestinal disorders. Even the most basic houseplant, such as philodendron, is toxic, and toxicity can be extremely painful. Dieffenbachia can cause the cat's tongue to swell, which affects breathing."
Signs of Trouble
It's fairly easy to tell if your cat has chewed on or swallowed a plant; the symptoms are vomiting, difficulty in breathing and lethargy. "If you see bits of plant matter in the vomitus or stool, there's a good chance" the cat has snacked on your plants, according to Johnson-Bennett. Be sure you know the names of plants in your house, because knowing what plant your cat has eaten can affect treatment; inducing vomiting is sometimes the right move, but that can sometimes make matters worse.
If you notice these behaviors, call the veterinarian right away. "I don't wait," Johnson-Bennett said. "If I think my cat has ingested something poisonous, I am on the phone to the vet right away. Don't have a wait-and-see attitude."
The Association for the Prevention of Cruelty to Animals' poison control center (aspca.org/Pet-care/poison-control/plant-list-cats.aspx) may be able to help, but nothing replaces getting to the vet right away.
Creating a Safe Harbor
A big believer that cats can be trained, Johnson-Bennett said that cats can be discouraged from eating houseplants if you apply bitter antichew spray made specifically for plants to the tops and bottoms of leaves. "You have to use it a couple of times at first, and reapply it on occasion." (Be sure to wear gloves and a mask when using such a spray, and to wash your hands immediately after using it.)
Give cats a safe alternative that fulfills their apparent need for greenery; grass is the best bet. "You can grow cat grass in a place away from your plants; there are kits at pet stores and organic food stores. Wheat grass is very safe," Johnson-Bennett noted. This may cause vomiting as well in some cats as a natural reaction when eating grass.
Read the entire article by clicking here at Healthypet.com!
Make Time for Play and Prevent Behavior Problems in Cats
It may be hard to imagine that cats lounging around the house feel stressed, but medical studies prove that they do and that it can lead to aggressive play.
"We put cats in abnormal situations when we keep them inside and confine them with multiple cats," said Valarie Tynes, DVM, diplomate of the American College of Veterinary Behaviorists (ACVB). "Yet cat lovers know it's hard to get just one."
To keep cats happy, veterinary behavior specialists suggest that owners play for at least five minutes each day with cats individually or in a group. To determine whether you should separate cats for play, watch to see if they sleep side by side and groom each other, Tynes said. That behavior indicates good interaction and gives a green light to group play, she said.
"Playtime provides mental stimulation and exercise," Tynes said. "If you don't engage your cats you have all these potential problems with aggression as well as obesity. The goal is to get these animals up and off the sofa. They need [owner] involvement."
Step one is to teach cats what is appropriate play.
Cats that attack moving feet or jump on owners without warning may not have learned the basics, Tynes explained. "Kittens learn if they hurt other kittens or cats [then] play ends," she said. "Unfortunately people don't understand how to set these rules."
To establish positive playtime use toys — not hands or feet — to start games that involve chasing and pouncing. Kitty fishing lines, balls, and furry mice held a few feet away from the body are good tools to use.
Overall, play aggression normally occurs when cats misinterpret owner actions as games, say behavior experts. For example: One cat regularly jumped on two young boys as they raced down a hallway after bath time.
"The kids were screaming and chasing each other and the cat thought it was funny to land on the kids' butts," said Sharon Crowell-Davis, DVM, PhD, ACVB diplomate. "He thought there was a really good game going on."
She suggested that the owners shut the door to the cat's room during bath time so he couldn't see the boys run down the hallway. The "attacks" stopped.
Owners can also try distracting a cat during instances of play aggression. By throwing something a toy across a cat's line of vision, he/she will chase it instead of going after your feet.
Please click here to go to the full article at HealthyPet.com!
Let us help you get your pet on the road to great oral care in 2012!  Pet Dental Health Month is typically talked up & celebrated (if you will) in February every year.  But at Michigan Road Animal Hospital we like to start the celebrating early by offering all sorts of specials in January & February.  Let's get your pet on the right track for oral health this month!
So, how often do you brush your pet's teeth?  I myself am guilty of not brushing my cat's teeth…like ever…and I know the diseases and poor health it can cause a healthy pet.  I should know since I work here! And if you are wondering: if the toothbrushing by your pet's groomer every 4-6 weeks, or if that new stuff you see advertised on TV to "bomb away plaque" (wouldn't we all just use that instead of seeing our dentists twice a year if it did?), or if some new "sedative-free" dental cleaning by the local pet salon really works?  Well, they don't.  If your pet has tartar buildup on his or her teeth then your pets' Veterinarian is the answer.  They ARE your pet's dentist.  They know what your pet needs and can make the right recommendations based on a thorough oral examination.
Did you know that most pets have already developed periodontal disease by the age of three? That's scary! Your pet has so many years to live…who wants to live with a painful mouth, or develop other horrible conditions like heart disease or kidney failure?  I know I don't want that to happen to my pet! Professional dental care with a Veterinarian and a regular at-home routine will help your pet enjoy a longer, healthier life. Plus it keeps your pet's breath fresh for more "enjoyable" kisses. From now through this February we are pleased to offer the following: complimentary dental exams, discounted dental cleanings, and 15% off dental products.
So how do you know if your dog or cat has a dental problem? Some signs are bad breath, brown or yellow teeth, excessive drooling, bleeding from the mouth, or a change in eating and drinking habits. A dental exam is the best way to determine your pet's need for a dental cleaning if you are not sure. And remember, right now those oral examinations are completely FREE! Call us today at 291-3932 or 228-0645 to get more details. You can also log on to www.petdental.com for great pet dental health information.
Holiday Pet Hazards
While you are busy making your festive plans for Thanksgiving, Hanukkah, and Christmas, please don't forget to include your pets. The holidays are a time for giving, but there are some things you should not share with your furry friends. Once you know the hazards, a little precaution and prevention will make holidays a happy time for everyone.
Some of the more common holiday hazards include:
Bones:
The holiday turkey or chicken will leave a lot of tantalizing bones, but don't feed them to your pet. Beware of steak bones, too. Small bones or bone chips can lodge in the throat, stomach, and intestinal tract.
Holiday plants:
Holly and mistletoe are extremely poisonous when eaten. The lovely poinsettia may not be truly poisonous but its milky white sap and leaves can certainly cause severe gastric distress. With so many hybrid varieties available each year, the best approach is to keep the plants out of your pet's reach.
Electrical cords:
Holiday lights mean more electrical cords for kittens and puppies to chew. Be sure you have cords secured and out of the way.
Candles:
Lighted candles should never be left unattended and that is even more important if left at kitty's eye level or within puppy's chewing zone. An exuberant tail or a swat of a paw can turn candles and hot wax into an instant disaster. Anchor candles securely and away from curious faces and feet.
Pine needles:
Check around holiday trees frequently. Ingested pine needles can puncture your pet's intestines.
Please click here to continue to the full article @ HealthyPet.com!
The holidays are fast approaching and many families are considering giving
the gift of a new pet. Please remember animals are not gifts, but lifelong companions. Return and exchange is not an option, however, many individuals make impulse decisions when it comes to getting a new pet and do not make informed decisions.
For starters, according to the Humane Society of the United States, 99% of pet store puppies come from puppy mills, which are basically inhumane, large-scale, breeding facilities. Due to the fact that puppies are mass produced and proper veterinary care is not given in order to keep costs low and profits high, these puppies typically have severe health problems.
There are over 10,000 puppy mills operating in the United States. Conditions frequently encountered include overcrowded living spaces, unsanitary conditions, sparse food and water, and little socialization. The dogs are kept in cramped wire cages stacked one on top of the other, exposed to extreme temperatures. When dogs can no longer produce offspring they are killed or sold. These appalling facilities will continue to function as long as demand is high and people continue to buy pets from pet stores.  Please click here to go to the full article by IndyTails.com.